Join the revolution in remote payment solutions
Our goal is to make payments in clinical practice easier by focusing relentlessly on simplifying both sides of any transaction. We do this by making it easier for practice staff members to create and manage payments while also making it exceptionally easy for any patient to pay their practice. 
Modernise your application by enabling secure, embedded, mobile payments
Easy integration

Our APIs are easy to implement

Embedded SMS Engine

No need for a separate text message system

Simple customer onboarding

We manage all KYC and AML requirements

Secured by industry leading partners

We bring together market leading expertise in a single package
New Features
In the Billink Dashboard you can now toggle a setting on/off that will automatically send your patients a reminder text message if they have not paid you after 24 hours from the initial Billink being sent.
Research shows that text messages achieve a 98% open rate on average and reminders have been shown to result in faster payments to your practice.
This feature has now been activated by default. It can deactivate/reactivate this feature any time from inside your Billink dashboard.
Resends are charged at the same standard rate as ordinary SMS Billink messages.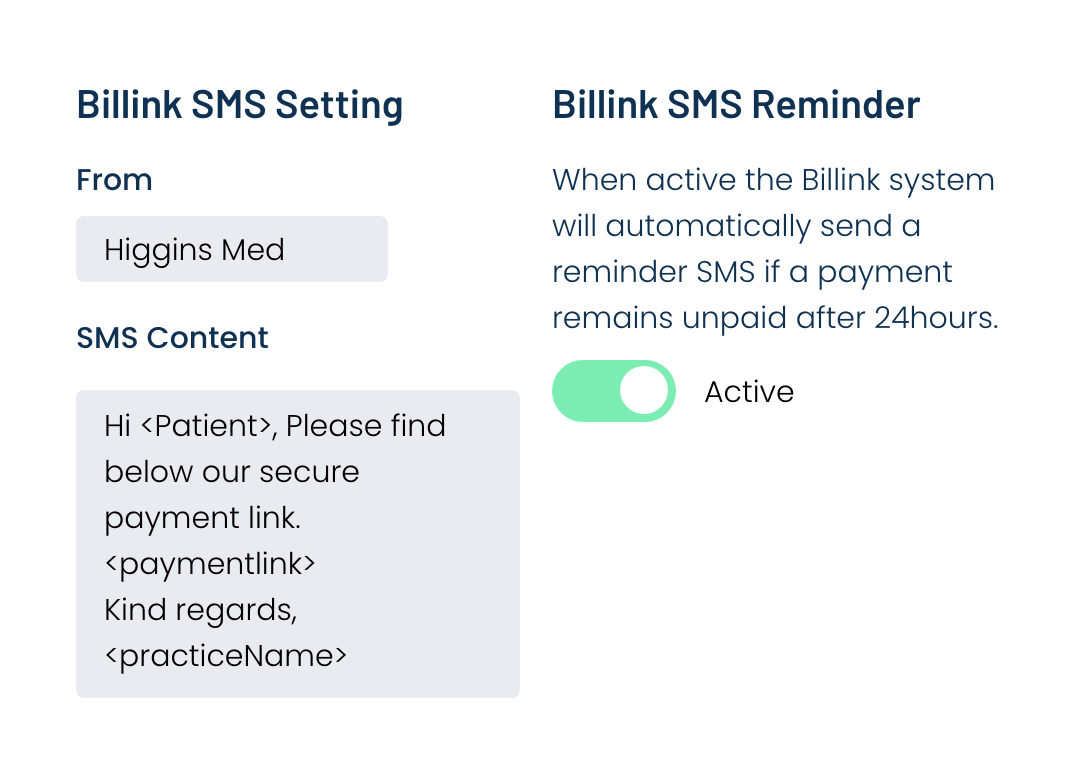 All unpaid Billinks now have a 'resend' button which means you can click to automatically resend a Billink to a patient who has not yet paid.
This has been one of the most requested features and now means that you can resend a Billink with a single click. To avoid accidental re-clicks and multiple sends we will confirm with you if a resend is clicked twice within a few seconds!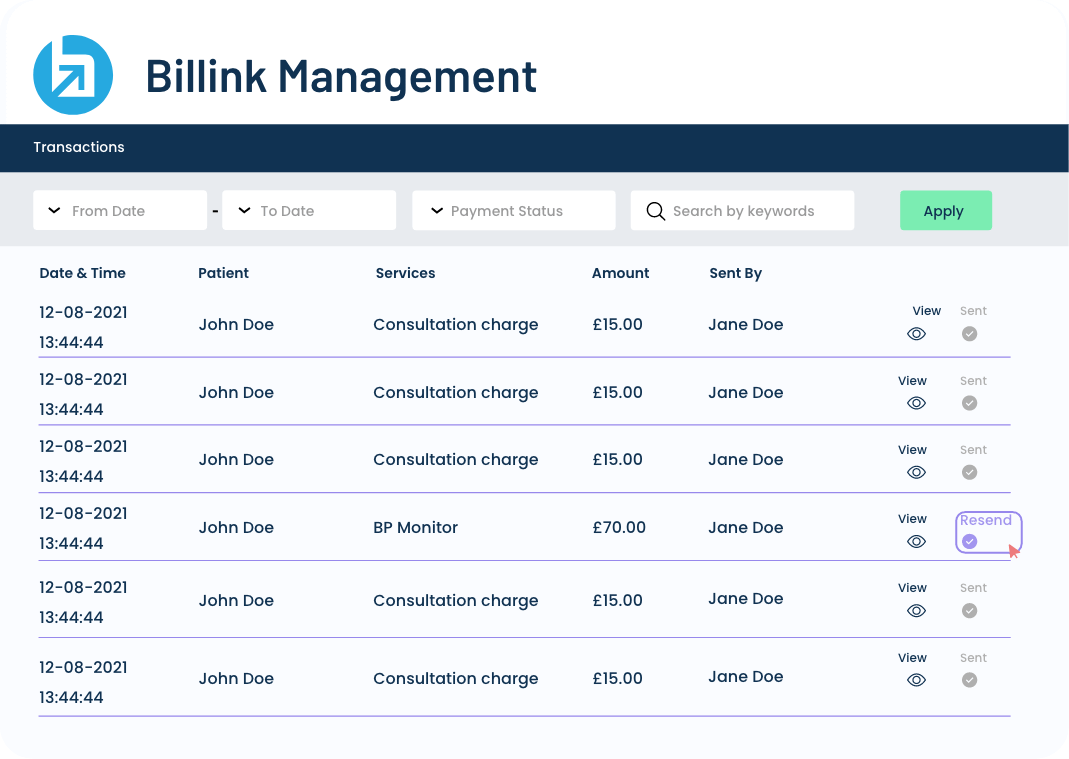 All Billink users receive a weekly insights report along with the remittance report. We use the insights report to summarise how well your practice is using Billink compared to the network average as well as listing the patients who still owe the practice fees from outstanding Billink payments from the previous week.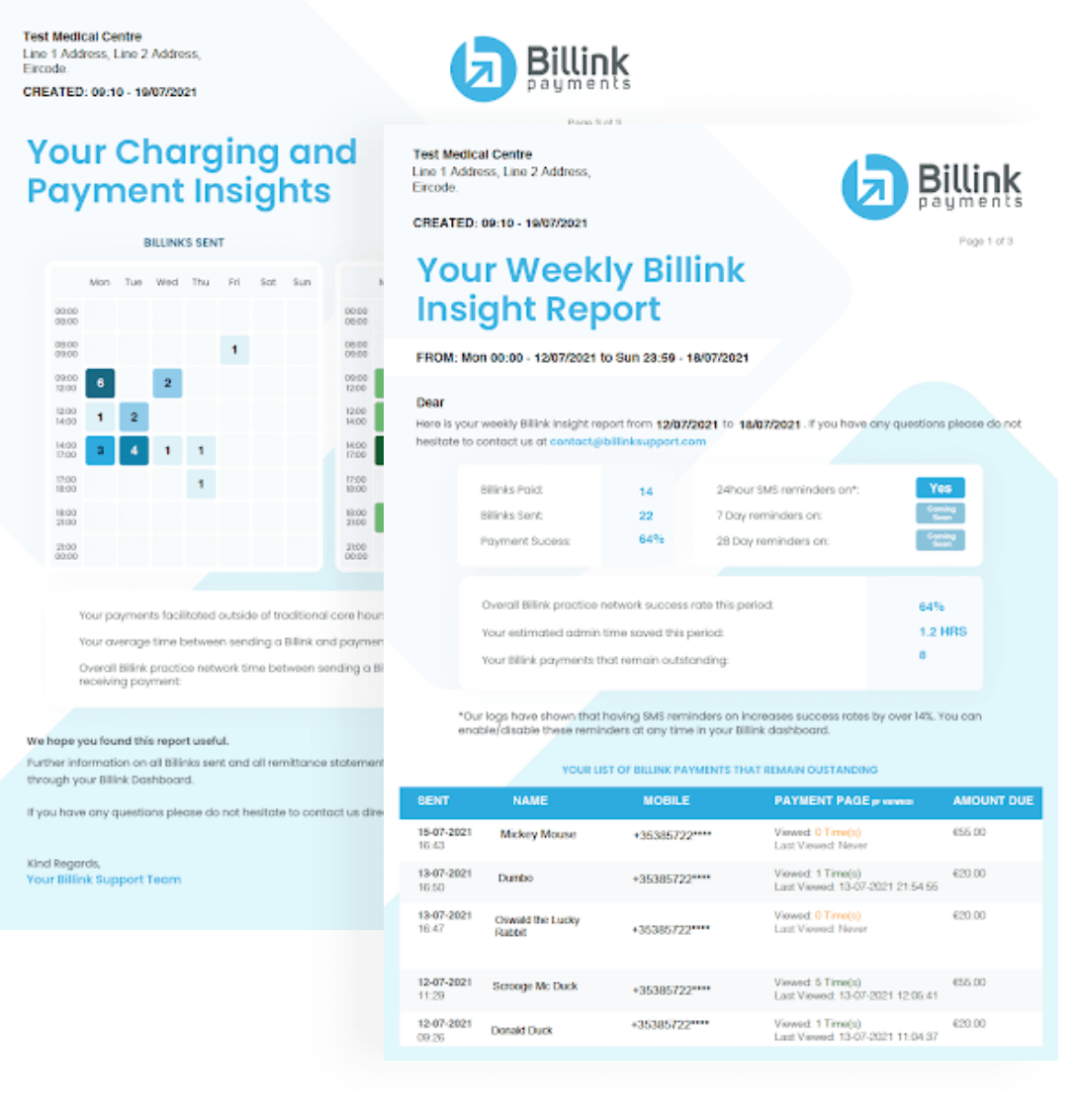 Making remote payments easy
Until now, enabling remote payments has been difficult. True integration has been time consuming and expensive. Billink makes this process easy.
Our open API's make it incredibly simple to drop our code into any system and deploy. We've taken care of the hard work, so that application developers don't have to!
Contact us today to review the API documentation and we will have you up and running in our test environment in no time. We are committed to getting as many software vendors activated as quickly as possible.
We facilitate a world class embedded, secure payments system by:
We provide easily to deploy API's

We take care of all KYC and AML

We support and minimise any development required

We provide a fully embedded SMS service

We provide real time updates on the status of each Billink request

We facilitate bulk and customised Billink payment requests

We provide a customised payments window for end customers to interact with.
Billink is quickly becoming the go to place for remote payments in Irish Clinical Practice
A message from our founder
When people ask me about the genesis of Billink I start by explaining that I believe a payment solution for clinical practice needs to be more nuanced than a hight-street payments system. What works well in a clothing store or bar isn't necessarily going to be the best solution for a busy GP practice or in consultant's suite.
The pandemic and subsequent lockdown certainly highlighted the need for a better remote payments solution for me personally. I remember covering a colleagues clinic one morning when a call came through to reception. A patient looking to settle an outstanding fee. The practice was really busy that morning with a packed waiting room. My admin colleague on the front desk had difficulty hearing the patient at all! 6 mins later, after needing to repeat the patients card details aloud (twice)- the details were finally confirmed, and payment was manually processed through a non-integrated card machine.  A frustrating and uncomfortable experience for everyone involved – The admin team member, the patient, myself and probably the 8+ other patients in the waiting room within earshot!
This above story is by no means intended as a criticism of an overworked administrative colleague trying to cope in a pandemic. It is most definitely however a criticism of the payment systems that we have had to use until that point in practice. I knew there must be a better way. That evening I sketched out the outline of a fully integrated remote payments system and how it might solve known problems for both patients and practices. Three months later this sketch would become Billink Payments. Four months after that would reach its first 100 active practices.
Looking back over the past few years I've been incredibly fortunate
I was really lucky that shortly after graduating from General Practice training I was invited to work with colleagues in the ICGP, HRB, Department of General practice in RCSI and over 300 practices in the creation of the Irish Primary Care Research Network. This led to the opportunity to found my own healthcare technology business in parallel with growing our own family practice in Galway which had been founded by my father over 20 years earlier.
Our family practice was a fantastic testing ground for some early initiatives. The outcome? Products such as Gorilla Survey (primary care), the National GP Forum (primary care), Spectrum Analytics (pharmacy insights in the UK), and The Irish Prescribing Index (primary care and pharmacy distribution). Billinks evolved from all of these products and relationships.
An acquisition in 2016 by Clanwilliam Group of my analytics company and a new role as Head of Innovation gave me the opportunity to assist in the collaboration and development of both local and internationally connected systems at scale– from ePrescribing and Health-Mail in Ireland to claims processing and pharmacy systems in New Zealand.
Just prior to Covid, while completing my MBA in UCD Smurfit Business School, I took on the role of Head of Technology Innovation within Centric Health and it was during this time working directly with over 50unique practices that I saw an opportunity to fix what I believe is fundamentally broken within Irish healthcare – the lack of a fully integrated, secure payments platform.
So that was it – back to the 'start up and build' phase once again
Fast forward 10 months and with the support of friends, family and colleagues Billink is quickly becoming the go to place for remote payments in Irish Clinical Practice. Billink is now also expanding to include colleagues in Private Consultant clinics. Next year will also see the launch of an integrated patients terminal.
We continue to grow and evolve our service and welcome any and all feedback or suggestions for clients, practices, partners or future collaborators.